RMS Revolutionizes

the Remittance Management Workflow

RMS simplifies the entire revenue cycle by automating remittance management and eliminating manual processes. Our solution scales to fit the unique needs of any healthcare provider from a single-doctor practice to a multi-facility hospital system.
How RMS streamlines the process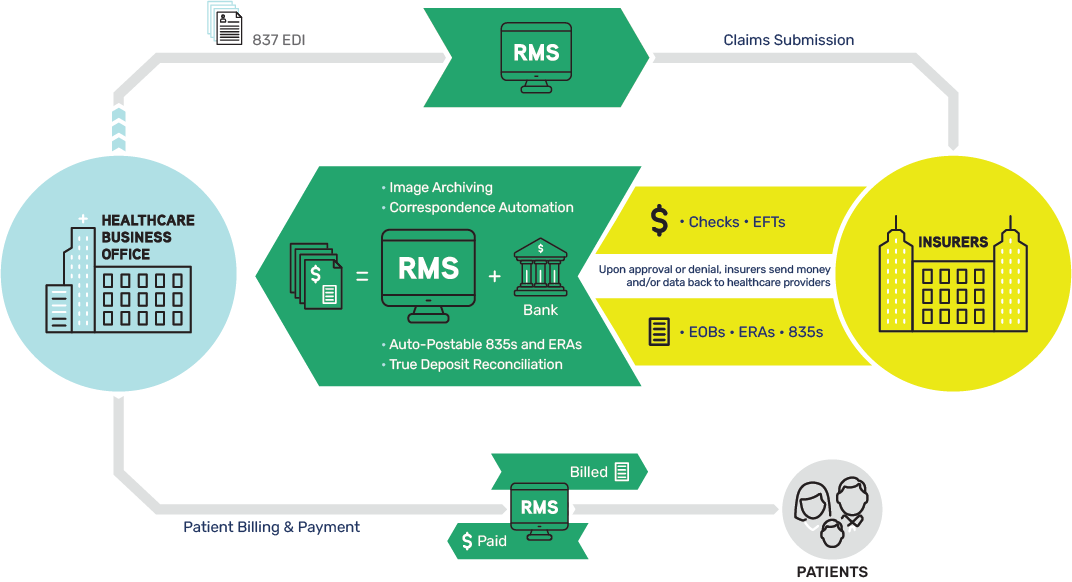 Billing
If selected as a service option, the patient is billed via RMS integrated services
Payment
When the patient payment is received, it is automatically matched to other relevant data to close the loop
After insurance payment or denial is recorded, RMS reconciles the data and dollars
Current and archived data is searchable for easy-to-understand analytics and reporting for faster, better decision making
---
Healthcare provider dashboard delivers functional reporting, normalized across multiple systems, for improved insight
RMS Integrates with All Major Healthcare Billing Systems to Get the Most Out of Your Investment
Let RMS maximize your savings and eliminate
Paper EOBs and ERAs
Manual Posting of Payments
Manual Patient Billing
Manual Data Entry
Manual Reports
Difficult-to-access Archives
Manual Reconciliation
Incomplete Analytics
Healthcare Providers
Error-prone manual data entry, inconsistent data formats and insufficient reports all create bottlenecks in the revenue cycle, slowing the flow of remittance advice and payment receipts. RMS automates the complex, time-consuming remittance tasks so you can focus more on patient care.
How RMS Helps
Channel both manual and electronic data into a single, digital source
Automatically process remittance advice and patient payments
Reduce time spent on repetitive, manual tasks
Improve efficiency from initial billing through final reconciliation
Seamlessly integrates with all major healthcare billing systems (Cerner, EPIC, Allscripts, etc.)
Our experts work collaboratively with your team to integrate the RMS platform into your workflow, quickly and efficiently
Together, we create a custom plan that outlines your investment and how that translates to future cost savings
Provide continuous customer support throughout the setup process and beyond
Over
1.3 Billion

Cumulative Transactions Processed
Banking Partners
Provide your healthcare customers with a best-in-class business tool that allows them to work more effectively and efficiently within their current billing system and your existing banking services. RMS helps increase the speed of the revenue cycle for improved cash flow, greater data integrity and the ability to analyze accounts to help promote growth.
Ways RMS Helps
Showcase your healthcare business expertise
Provide advanced healthcare-specific products
Enable your clients to streamline their healthcare business office processes
Remain competitive in the marketplace by offering our comprehensive suite of solutions
Deliver onboarding support and sales tools for your team to promote the solution
Provide a white-label version of the software or act as a referral partner
Utilize our experts to integrate RMS for your customers on a fast implementation cycle
Continuous support ensures your customers' needs are met now and in the future
Real Return on Investment
Automate the complex healthcare revenue cycle with RMS and experience increased ROI through streamlined day-to-day operations, accelerated revenue cycle for improved cash flow and a more efficient workforce. That's Expertise, Electronified.
See How Your Office Can Experience Expertise, Electronified &reg